We did the Gumbo here a few weeks ago to kick off the 2010 Festival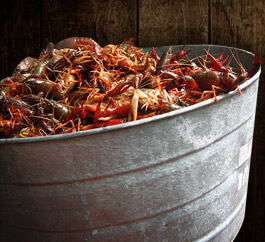 of Life.   Now, it's one thing to have a kickoff and quite another to actually play the game.  So let's get our game on for the first Crawfish Boil of 2010
WHEN: 20 March 2010 – 3:00pm Eastern Time (convienent since we're on Eastern Time, no?)
WHERE: Bubba's House (ping me for directions)
WHAT CAN I BRING: A chair, if you don't want to sit on the ground (but we're cool with people sitting on the ground too). Your favorite drink if it's anything other than water or (sweet) tea. If you *MUST* bring a gift then Bubba likes cigars and I like rum but none is required… seriously.
WHY: Seriously? I mean really? You've obviously not been to one of our get-togethers.  If you had you wouldn't have to ask.   Still, since you asked,  the primary reason is that Bubba and I (along with our family) enjoy cooking and eating crawfish. Secondly, lot's of people show up, and one our favorite things to do is hang out with (a lot) of good friends eating good food … with our fingers.
Lest you be worried that we don't know what we're doing be soothed that jinksto was born and raised in Louisiana and has a good handle on all things cajun.  Bubba, likewise, was born and raised in Mississippi which is a bit like your own crazy cousin that everyone likes to hang out with… except, without shoes.   End result, we knows what we's doin'.
RSVP: As Bubba so eloquently put it, "we'll have 'em shipped in from Louisiana and if we run out (Lord Forbid!!!) we caint just run down to the creek and get more." So, we need a pretty close count to make sure that we have enough to feed everyone. jinksto@gmail.com should get you into contact with the right folks.
What if I don't like…: Stop.  Just stop.  When have you ever known us to cook something that you didn't like?  I reckon if you've never broke bread with us this might be a concern.  If that's the case then please be assured that there'll be plenty to eat.  If you're REALLY concerned then pack a lunch but do come out anyway and hang out with us. 
…